Pipe Bend


30 Degree 3D Bend


45 Degree 3D Bend


60 Degree 3D Bend


90 Degree 3D Bend


30 Degree 4D Bend


45 Degree 4D Bend


60 Degree 4D Bend


90 Degree 4D Bend


30 Degree 5D Bend


45 Degree 5D Bend


60 Degree 5D Bend


90 Degree 5D Bend


30 Degree 6D Bend


45 Degree 6D Bend


60 Degree 6D Bend


90 Degree 6D Bend


30 Degree 8D Bend


45 Degree 8D Bend


60 Degree 8D Bend


90 Degree 8D Bend


30 degree 10D Bend


45 Degree10D Bend


60 Degree 10D Bend


90 Degree 10D Bend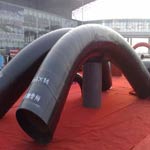 Our X70, X80 pipe bends are widely used in large engineering projects. For example, our X80 ¢1219.2×22, X70 ¢1219.2×22 hot-bending bends for West-to-East Gas Transmission Project and Sichuan-to-East Gas Transmission Project have earned trust and praise from our customers.
Our commonly used raw materials are X70 and X80. But our pipe bends can also be made from API 5L GRADE B, X42, X46, X52, X56, X60, and X65.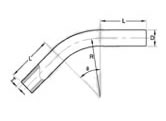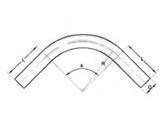 Size
Seamless bend: 1/2"~24" DN15~DN600
Welding bend: 6"~60" DN150~DN1500
Wall Thickness
sch10, sch20, sch30, std, sch40, sch60, xs, sch80, sch100,
sch120, sch140, sch160, xxs, sch5s, sch20s, sch40s, sch80s
Max. wall thickness: 200mm
Materials
Carbon steel Pipe Bend: ASTM/ASME A234 WPB-WPC
Alloy steel: ASTM/ASME A234 WP 1-WP 12-WP 11-WP 22-WP 5-WP 91-WP 911
Stainless steel: ASTM/ASME A403 WP 304-304L-304H-304LN-304N
ASTM/ASME A403 WP 316-316L-316H-316LN-316N-316Ti
ASTM/ASME A403 WP 321-321H ASTM/ASME A403 WP 347-347H
Low temperature steel: ASTM/ASME A402 WPL 3-WPL 6
High performance steel: ASTM/ASME A860 WPHY 42-46-52-60-65-70
Standards
SY/T5257-2004
DL/T515-2004 GD2000 GD87-1101
ASME B16.49-2007 ASME B16.25-2007
Industrial Processes
Bending, squeezing, pressing, forging, machining and more
Industries Served
Our pipe bends are widely used in many industries, such as power generation, petroleum, natural gas, chemicals, shipbuilding, construction, papermaking, metallurgy and so on.
Specifications for Pipe Bend
Pipe Bendd 
Production range
Seamless bends
Welding bends
Outside diameter
1/2"~24"
6"~60"
Wall thickness
4mm~200mm
Bending radius
R=3D~10D
Product angle
0°~180°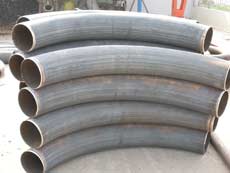 PIPE BEND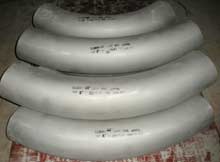 STAINLESS STEEL BEND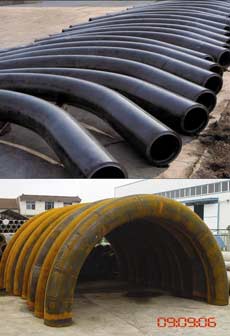 CARBON STEEL PIPE BEND