Carbon Steel A234 Buttweld Elbow,SCH40,SCH80,SCH160
1/2 inch as a result of 48 inch (larger measurements offered on ask for)
90 & 45 degree long and short radius elbows, 180 degree return bends long and short radius, equal tees & reducing tees, concentric reducers, eccentric reducers, and end caps. Other items such as crosses, laterals, and stub ends out there on ask for.
A234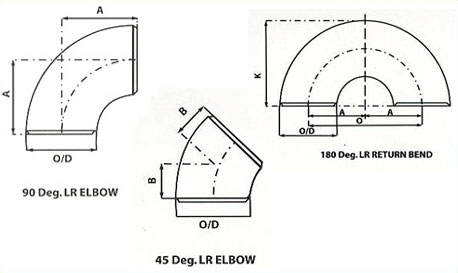 Low temperature material obtainable.
Sch 20, 30, Standard, SCH 40, SCH 60, Extra Heavy, SCH 80, SCH 100, SCH 120, SCH 140, SCH 160, Double Extra Heavy
Material will meet the relevant specifications.
We manufacture finest high quality of butt-weld carbon steel pipe fittings to meet diverse material specification. Our steel butt-weld pipe carbon steel fittings are exceptionally tough and are obtainable in a variety of shape such as bent,triangular, rectangular and so on. Butt-weld pipe fittings are ideal multiple connection of steel pipes and to prevent fluid leakage. Unique forms of fittings can decrease potential fluid handling program and enhances their more than all performance
Having a perspective being to be an industry leader in all our manufacture of highest quality butt weld water pipe fittings, we deliver forth our selection of Elbow (900, 450, 180o) that happen to be perfect to meet varied materials requirements. All of these angular elbows are exceedingly durable and they are available in various forms like curved, triangular, rectangle and so on. because of thesehigh precision, strong made elbows, help in maintaining multiple connection of pipes and to prevent fluid leakage.
上一篇:Pipe Bend 90 deg 3d 1.5D,Stainless and carbon butt weld pipe bend
下一篇:Carbon Steel Pipe Fittings,Galvanized Pipe Fittings
(Tag):