high-pressure Alloy steel tee - high-pressure steel pipe
High Alloy tee
Tee and reducing tee fittings are in the pipeline. Generally refers to the three-way takeover of the same diameter (such as an inch or two inches, respectively, are the same and so on and so on), while reducing tees are not identical three takeover diameter (such as where the other two for two inches to one inch) .
High Pressure Alloy tee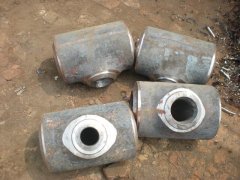 Alloy tee Material: 12Cr1MoV, 15CrMo, 10CrMo910,1Cr5MO, WB36, A335P91 etc., high pressure tee Model DN100-DN600, pressure PN9.81-PN42.0, high temperature 540 degrees.
Three links to production methods can be divided into top tee, repression tee, forging links, welded tee, casting tee. There are two kinds of links divided by shape, Equal Tee and Reducing Tee. Tee is the same size as three ports.
Reducing Tee is a period in charge plus a small branch pipe, apparently, is in charge of two large size, indirectly out of the small size is that the manifold ..
High alloy tee widely used in petrochemical, oil and gas, liquefied petroleum gas, fertilizers, power plants, nuclear power, shipbuilding, paper, pharmaceutical, food hygiene, construction and other industries of construction and maintenance projects.
Recommended: Hebei Donghai pipe manufacturing company manufacturing all kinds of elbow, head size, tees, big bend, pipe caps, flange, waterproof casing, bellows, fasteners, corrosion pipe insulation, pipe insulation and other products, conventional models with large spot, materials are 20 #, 16Mn, 12Cr1MoV, 15CrMo, 10CrMo910,1Cr5MO, WB36, A335P91 so on.
Uses and advantages of the introduction of high-pressure steel pipe, alloy seamless steel pipe is a high-performance ratio of a steel pipe, steel pipe inside because it contains Cr more, its high temperature resistance, low temperature resistance, corrosion resistance is another seamless pipe not match, so alloy pipe in the petroleum, chemical, electric power, boiler and other industries more extensive use.
Steel pipe steel products as an important part, because of its manufacturing process and used different shape into seamless steel tube (round billet) and welded steel (plate, strip) into two categories.
Heating surface tubes steel pipes are mainly used for low and medium pressure boiler (working pressure is generally not more than 5.88Mpa, working temperature below 450 ℃); a high-pressure boilers (above 9.8Mpa working pressure in general, the working temperature of 450 ℃ ~ 650 between ℃) of heating surface tubes, economizer, superheater, reheater, petrochemical industrial pipe.
Steel pipe can be 100% recycled, environmentally friendly, energy-saving, resource conservation national strategy, national policy to encourage the expansion of high-pressure alloy pipe applications. At present, the proportion of the total accounted for steel alloy pipe of the developed countries consume only half the field of the use of alloy tubes expanded to provide a broader space for development of the industry. According to the research branch of China Steel Association alloy tube expert group, with an average annual growth of China's future demand for long steel, high alloy pipe up to 10-12%
上一篇: Alloy steel,carbon steel pipe fittings and pipe flanges
下一篇:carbon steel pipe elbow,Elbow Fittings,pipe elbows
(Tag):