Galvanized Pipe Fitting
we offers Galvanized Malleable Pipe fittings available in 150# and pipe sizes from 1/8" to 6" in Couplers
, Tees, Crosses, 90° Ells, 45° Ells, Hex Bushings, Bell Reducers, Reducing Tees, Street Ells, Plug, Caps,
Unions and Nipples. Heavier fittings are available upon request as well as additional material such as
Black and Stainless Steel in various grades. No Lead products also available upon request.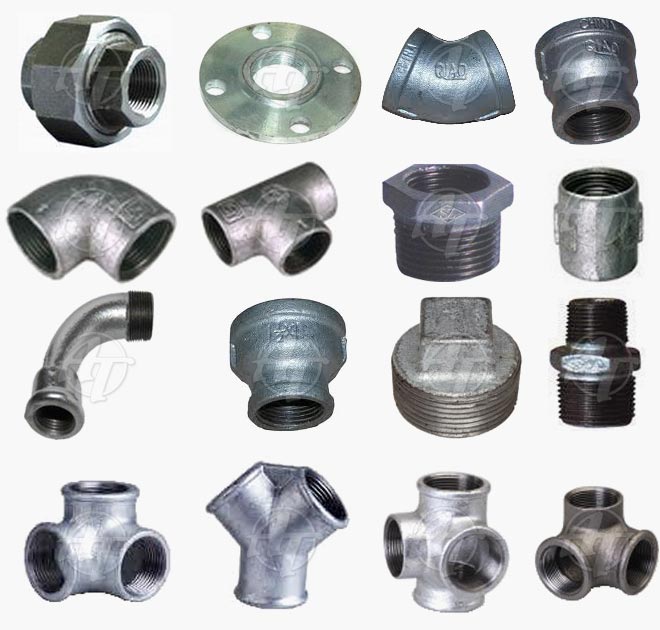 1)Standard:ASME, BS, DIN
2)Type:banded,beaded,plain
3)Surface treatment:hot dipped, electric galv., black
4)Size:1/8" to 6
Detailed Product Description
1) American standard: a) Materials: ANSI / ASME A197-79 b) Dimensions: ANSI / ASME B16.3-85 c) Threads: ANSI / ASME B1.20.1
2) Din standard: a) Materials: DIN1692 b) Dimensions: DIN2950 c) Threads: DIN2999
3) British standard: a) Materials: ISO5922 b) Dimensions: ISO49 c) Threads: ISO7/1
Features:1) Hot dipped galvanized using the first class zinc; electric galvanized, normal black or shining black
2) Size: 1/8" to 6"
3) Available in galvanized, black, banded, beaded and plain
4) Excellent materials, precise angles, smooth surface, sturdiness and durableness
and good antirust property.
5) Nylon bags with pallets or cartons
上一篇:sch40 cs elbow
下一篇:60 degree elbow
(Tag):
Electric Galvanized Pipe Fittings